BIRDS AS ART BULLETIN #258
March 27, 2008
Visit www.birdsasart.com
TODD GUSTAFSON CONDOLENCES
SW FLA IPT REPORT
IPT KUDOS
ANNOUNCING THE 2009 SW FLA PRESIDENT'S DAY IPT
TRAVEL INSURANCE SERVICES
THE PERFECT TINY BALLHEAD FOR WIMBERLEY and MONGOOSE USERS
VERY IMPORTANT EXPOSURE HOW-TO INFO
PFLI APPEARANCE AT PHOTOFEST, APRIL 6, 2008
BIRDPHOTOGRAPHERS.NET/IT AIN'T JUST BIRDS UPDATE
PORTLAND, MAINE: "The Art of Nature Photography; It Ain't Just Birds" Weekend How-To Seminar
IPT UPDATES
Contact us by phone at 863-692-0906 (Eastern Time Zone) or by e-mail at birdsasart@att.net . The att e-mail address is best from overseas.
We gladly accept credit card orders by phone 8am till Eastern Time ( till Fridays). You can use the PayPal links on the web site to order anything. Just type in the item(s) and the amount. If using your own PayPal account, please send to either of the e-mail addresses above.
Note: maximize this e-mail for best formatting.
Photographic theme: Images created just before, during and just after the SW FLA Spring IPT.
Important Request: if responding to this e-mail, please take the time to delete all images and all irrelevant text.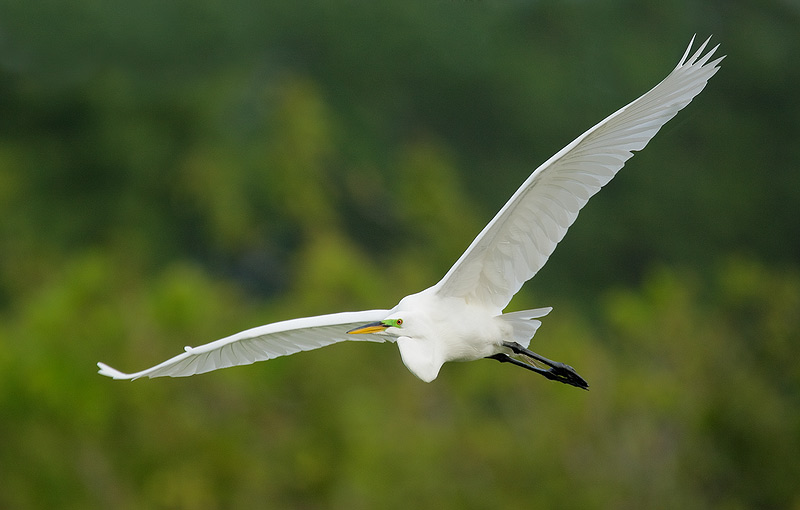 Great Egret, breeding plumage in flight, Venice Rookery, South Venice, FL
Image Copyright 2008: Arthur Morris/BIRDS AS ART
Canon 500mm f/4L IS lens (on Mongoose with 4th GD low foot), 1.4X II TC, and the EOS-1D MIII. ISO 400. Evaluative metering + 2 2/3 stop off sky set manually: 1/500 sec. at f5/6.
I scouted the Venice Rookery the day before the IPT started. It was a foggy morning so I was glad to come away with one family jewel. I used the central sensor and the MIII focused perfectly; I cropped a bit off of the bottom. There were very few breeding pairs of Great Egrets present.
TODD GUSTAFSON CONDOLENCES
Todd lost his Dad, Paul Gustafson, just last week. I only met Paul once. He was a large gentle man who was always smiling. He had an interest in photography and was very proud of his talented son's many accomplishments (which include being a great son, husband, Dad, world class professional trumpet player, world class finish-carpenter, and world class professional photographer but are otherwise too numerous to list here). Todd's great love of East Africa was born when he was (to missionary parents) in Tanzania more than four decades ago. Todd is in Belize right now so all of the following may not be completely accurate, but my understanding is that Todd's Dad founded a school in the Usambara Mountains about 40 years ago. The school was recently being named as a university and Todd's Dad was to travel there in February to be honoured at the ceremony. Todd had planned to accompany his Dad. Todd got home from Tanzania on a weekend and was supposed to head back to Africa with his Dad midweek. He called his brother on the way home from the airport to learn that his Mom and Dad had been in a head-on collision caused by another vehicle. Both suffered a variety of serious injuries.
On that Monday the doctors told the family that Todd's Dad needed bypass surgery immediately and could not travel to Tanzania. On Tuesday they said "Never mind," and gave Todd's Dad their blessings for the trip to Africa. Todd and Paul made the round trip successfully and Todd was overjoyed that his Dad got to witness the completion and celebration of his life's work. Paul had the surgery after getting back to the US and was doing quite well when he was felled in short order by a massive blood infection.
While arranging the funeral ceremony, it was planned that the many male grandchildren would carry the coffin. Anders, Todd's young son--I think that he is 11--said to Todd, "When they list the pallbearers, they should spell it P-A-U-L, Paul-bearers. They did. Todd's Dad was laid to rest on Monday, March 26, 2008. I know that Todd is missing his Dad greatly. If you have met or travelled with Todd, I know that he would appreciate hearing from you via e-mail: Gustaphoto@aol.com.
I am again sending Todd, his wife Julie, his Mom, his brother and all the grandchildren a ton of love, strength, and energy. Love you Toddi. (Todd's Swahili name is Toddi.)
SW FLA IPT REPORT
The SW FLA Spring IPT, the last of the large IPT groups, was a big success. On our first morning, Monday March 17, we visited the Venice Rookery and had a good but not great morning photo opps-wise, but a great morning learning wise. Starting at Venice gives us a chance to keep the group close together and to keep close tabs on everyone. I was assisted by Alfred and Fabs and crack BPN moderator Axel Hildebrandt. That afternoon we headed down to Placida and got some great flight photography practice with handheld short lenses and Brown Pelicans.
On Day 2, we visited Ding Darling at dawn, but it was pretty much D-E-A-D so we continued on to Blind Pass which was not much better. We did enjoy a single tame Great Blue Heron at the edge of the surf. I then reached into my bag of tricks for my very best Sanibel back-up spot: we enjoyed more great flight photography with Brown Pelicans, got portraits of both breeding plumage and immature White Pelican, and made point-blank head portraits of Snowy and Great Egrets and Double-crested Cormorants. We started out image critiquing session that afternoon, made our way to Cape Coral for some great Burrowing Owl photography, and finished up with pizza and the rest of the image critiquing.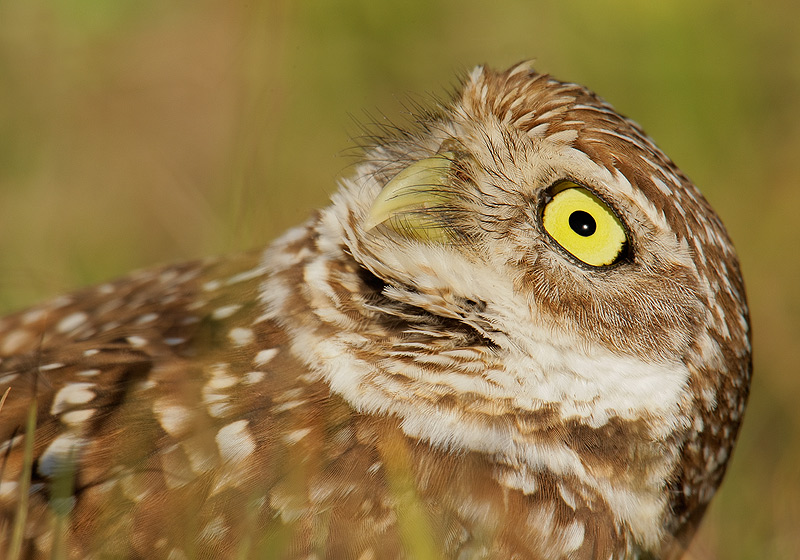 Burrowing Owl checking out Turkey Vulture overhead, Cape Coral, FL
Image Copyright 2008: Arthur Morris/BIRDS AS ART
Canon 600mm f/4L IS lens (on Wimberley head), 2X II TC, 25mm Extension Tube, and the EOS-1D MIII. ISO 400. Evaluative metering +1/3 stop: 1/400 sec. at f/10.
With three active nests within a block, we were able to break into small groups. Here, I got low, added an extension tube, and waited for something interesting to happen. I used One-Shot AF. I had time to make two images after recomposing. With this, the sharper of the two frames, I added a bit of canvas to the top and cropped a bit from bottom. I borrowed theo-o-f green BKGr from the other frame. You can learn the details of this exact location (plus many, many more) in the SW FLA Site Guide: http://birdsasart.com/siteguides.htm#SW%20FLORIDA%20SITE%20GUIDE%20AVAILABLE
.....
Day 3 found us at the eastern end of Estero Lagoon well before sunrise. There was a brisk east wind. We encountered a small feeding spree with Great and Snowy Egrets and while working them, a very cooperative white-phase Reddish Egret flew in and joined the party. With the strong wind, some folks opted to work the Wilson's Plovers that were reluctant to fly. We headed west down the lagoon to my favorite feeding spot and broke out some thawing Greenbacks, large native baitfish. When we tossed the first fish we were amazed to see several pelicans leap high into the air to grab a fish. Most folks grabbed a short lens, sat in the shallow water, and had a ball. We also enjoyed more flight photo opps with the Great Egrets and a dark phase Reddish Egret. The former eagerly responded to our tossed fish while the latter fished on its own in its typical drunken sailor fashion. It clouded up a bit by mid-morning as a super high tide flooded vegetated flats that are usually dry. The White Ibis fed eagerly on the flats nabbing one fiddler crab after another.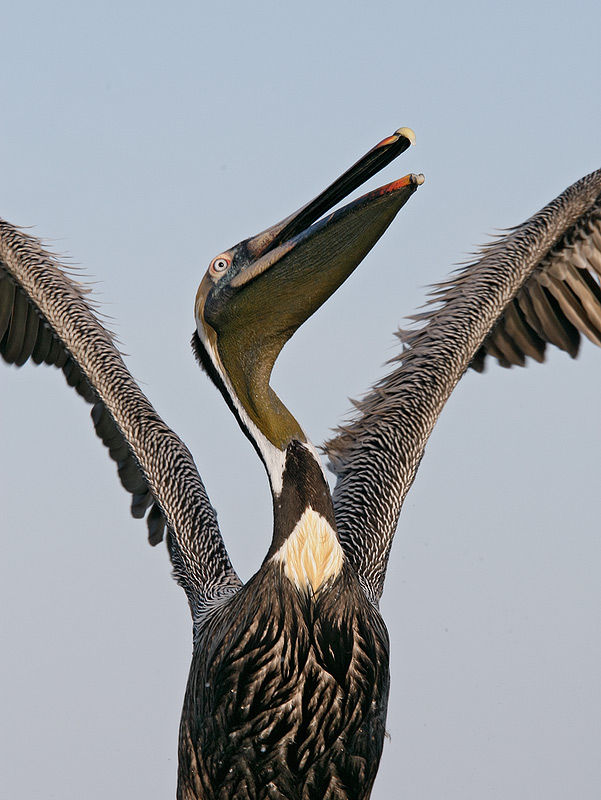 Brown Pelican leaping into east wind for tossed fish, Little Estero Lagoon, Fort Myers Beach, FL
Image Copyright 2008: Arthur Morris/BIRDS AS ART
Canon 70-400mm f/4L IS lens with the 1.4X II TC (handheld at 208mm) with the EOS-1D MIII. ISO 400. Evaluative metering +1 1/3 stop off sky: 1/1250 sec. at f/8 set manually.
Many of my leaping pelican images featured poor head angles. This one was perfect. For those confused as to how I came up with a good exposure, check out my pertinent comments on the subject (Important Exposure How-to Info) in the Educational Resources Forum on BPN: http://www.birdphotographers.net/forums/showthread.php?t=8022
.....
Linda Robbins, who had joined us that morning, had a captive baby Corn Snake with her. Her neighbor had wanted to kill the snake after capturing it in her house. During our long break, we posed the snake in a tree in front of the Holiday Inn. I set up my 180mm macro lens with the macro Twin Light and most of the groups took turns putting a flash card in my MIII and making images. After about twenty minutes of wriggling around the snake became totally relaxed, coiled up comfortably, and posed until we were completelly sated.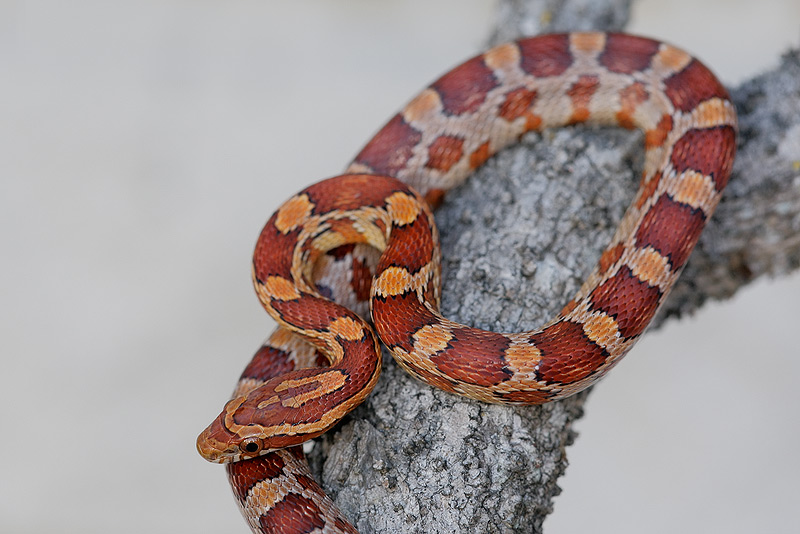 Corn Snake, Captive, posed at Fort Myers Beach, FL
Image Copyright 2008: Arthur Morris/BIRDS AS ART
Canon 180mm macro lens with macro twin light (at -1 with 1:4 ratio) with the EOS-1D MIII. ISO 400. Evaluative metering +1 stop: 1/100 sec. at f/5.6 on Mongoose M2.3.
On the rare occasions that I do macro photography, it is uncanny that 9 times out of 10 my first compostion turns out to be my favortie. That was the case here. The wall behind the snake was stucco so I used wide apertures for the most part to avoid bringing up the unwanted BKGR detail.
.....
With clear skies and bright sun we did not head out to the lagoon until about 5pm. John Moran's (http://www.johnmoranphoto.com/index.html) good friend Ed Moynahan graciously agreed to tote my bucket and cast net out to the cut. We stopped almost right off the bat for a lesson on photographing a brightly (almost blindingly) backlit Great Egret. There were several Snowy Egrets fishing in the inlet and several Ospreys flying overhead. I caught a variety of small baitfish with the cast net and the snowies gobbled them up (once they found them in a puddle that we created). Then I caught a mullet about 8 inches long. The snowies ignored it and suddenly, without warning, an absolutely gorgeous Great Egret with stunning Kelly-green lores flew in, snatched the mullet, turned away from us, and swallowed the large fish almost instantly. Bad luck. The bird, however, was eager for more and stayed put right in front of us for twenty minutes as the light got sweeter and sweeter. Good luck!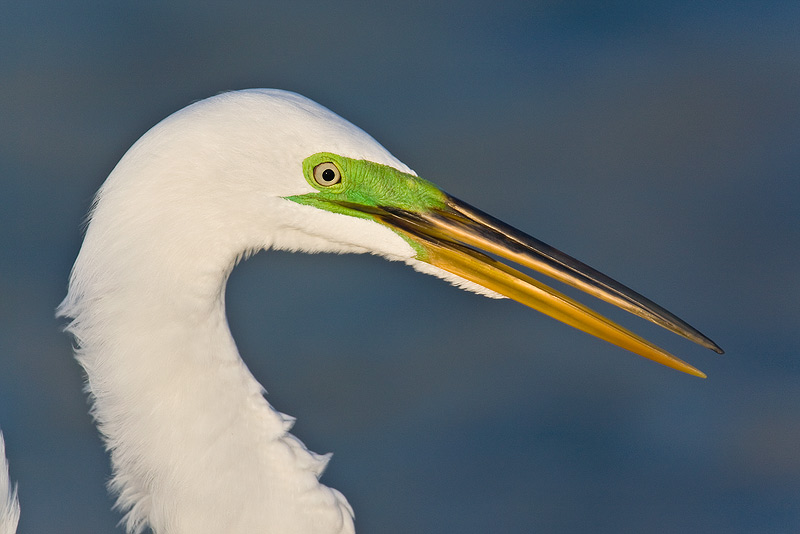 Great Egret with bill slightly open, Little Estero Lagoon, Fort Myers Beach, FL
Image Copyright 2008: Arthur Morris/BIRDS AS ART
Canon 500mm f/4L IS lens (on Mongoose with 4th GD low foot) with the 1.4X II TC and the EOS-1D MIII. ISO 400. (Are you seeing a pattern yet?) Evaluative metering +2/3 stop: 1/1000 sec. at f/5.6.
I did lots of clean up on the bill as with the bird's head just about square to the imaging sensor there were lots of specular highlights... Had the head been turned slightly towards me, the great likelihood is that there would have been few or no specular highlights.
.....
On Day 4, the group opted to give Ding Darling a second chance. It was much better than on our first visit, but only shadow of what it used to be. We took advantage of some nice backlit situations and some dark clouds. It drizzled off an on briefly, and this provided some nice raindrops on the morning glory blooms. We had some cormortants fighting over a fish, perched red-shoulder and Osprey, and some Yellow-Crowned Night Herons that were acting as if they would soon be nesting. We finished the morning off with a great lunch at the Hungry Heron on Palm Ridge. We headed back to the motel for a short nap followed by a long Photoshop session (taught by yours truly).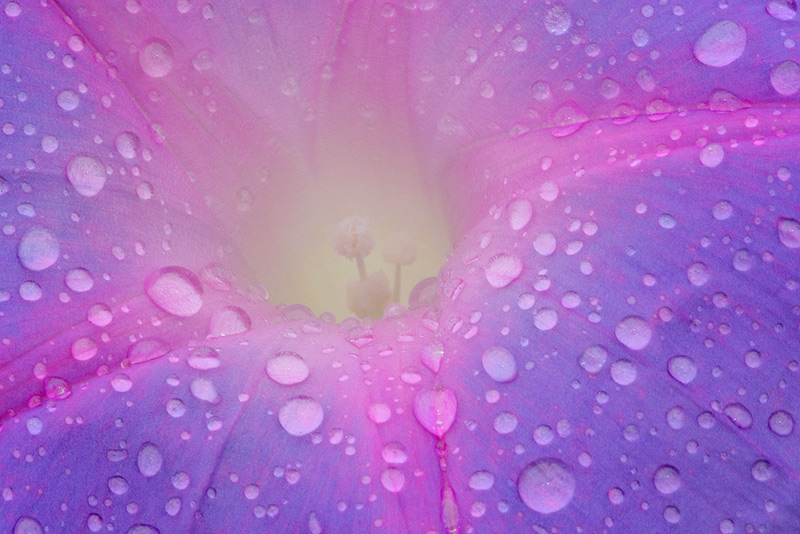 Morning Glory blossom with raindrops, Ding Darling NWR, Sanibel, FL
Image Copyright 2008: Arthur Morris/BIRDS AS ART
Canon 180mm macro lens with macro twin light (at -2 with 1:4 ratio) with the EOS-1D MIII. ISO 800. Evaluative metering +1 stop: 1/4 sec. at f/32 on the Mongoose M2.3.
I had been doing handheld abstracts of this very flower when we had a short sprinkle. That prompted me to go back to my Sequoia, grab the tripod, and painstakingly set up the tripod while attempted to step only on the limestone. Thakns to Bob Blanchard who helped block the wind so that I could make a sharp image at a very slow shutter speed.
.....
We headed back to Sanibel for an afternoon session at the fishing pier. We had great opps with the cooperative Snowy Egrets (eating live shrimp and greenbacks out of my bucket) and a Royal Tern hovering above us (with monofilament fishing line and a fishhook hanging from). But the big attraction was a nearby Osprey nest. The wind and the light were perfect and the folks who stuck with that situation got some great images of both perched and flying birds.
Snowy Egret with shrimp, Sanibel, FL
Image Copyright 2008: Arthur Morris/BIRDS AS ART
Canon 100-400mm IS L lens with the EOS 1D-MIII (handheld at 320mm). ISO 400. Evaluative metering +1 stop: 1/640 sec. at f/5.6.
We spent more than $20 for the 3 dozen shrimp that we put in our bucket. The snowies made short work of them gobbling them up like potato chips... Yes, this one should have been a vertical!
.....
Alfred and Fabs took a small group back to Venice on the last day, while I took most of the group back to Little Estero Lagoon. Venice was much better than on our first visit while Estero was not quite as good as it had been on Day 3. Both groups returned to our base, the LaQuinta Inn on South Cleveland in Fort Myers, and Alfred (Lightroom) and Fabs (Photoshop plug-ins) gave two great programs. At 5pm we headed back to Cape Coral for another dose of Burrowing Owls. The birds were even more accepting of us than on our first visit. As the sun sank slowly in the west, we said our goodbyes and headed for dinner.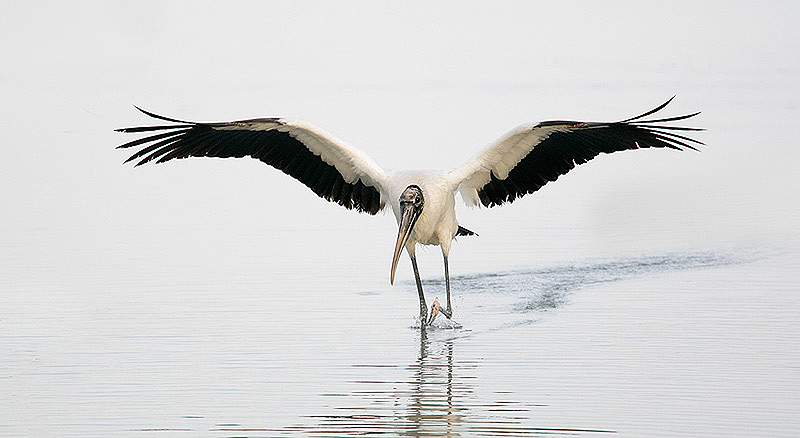 Wood Stork running, Little Estero Lagoon, Fort Myers Beach, FL
Image Copyright 2008: Arthur Morris/BIRDS AS ART
Canon 70-200mm f/4L IS lens with the 1.4X II TC (handheld at 280mm) and the EOS-1D MIII. ISO 640. Evaluative metering +1 2/3 stops: 1/640 sec. at f/5.6.
We were all surprised when this Wood Stork flew in and landed right in front of us. Note that with the dreary conditions I had to add lots of light.
.....
Participant Tom Merigan (who had been on two Bosque IPTs) is a smiling and very interesting gent who had been a medical professor at Stanford for several decades. Shelly Goldstein, who was among several folks from the New York City area, had been with me to the Galapagos two years ago. Giulio Zanni who made the trip from Bosnia was quite a delightful fellow; we spoke at length about his work and meditation. The aforementioned David Moynahan was a real sweetie and a serious student of photography; I love folks who consistently ask great questions. Jim Poor, who has made great contributions at BPN, joined us as part of an extended Florida photography trip. Among the other new Yorkers were Ardith Bondi and Beth Goffe who attended the NYC Seminar last August and Katie Rupp an eager to learn beginner. Connie Fox, from NJ, who rented a 500mm lens from me for the trip, toughed it out by beating the dreaded flu in a single afternoon... From the Miama area were Humberto Guarin was a funny, passionate man who just loved his IPT experience and Ron Cantor who was joined by his (non-photographer) wife Margie. Humberto amazed all when he whipped out his huge homemade ring flash designed for big Nikon telephotos. It was not very practical as the battery weighed more than the battery for a large SUV... Ted Ruffner was an enthusiastic nature photographer who often went exploring on his own but who returned often to the group to ask some insightful questions. Rounding out the group was BPN Member Bob Blanchard of Fort Myers, a happy bear of a man. Bob was amazed by the amount of area knowledge that I shared with he group. As a local who has been photographing for years, he assumed (incorrectly <smile>) that he knew everything about the area... On all IPTs, I strive to share my thinking out loud with the group: "We are going here this afternoon because the wind is perfect and we are going there tomorrow as it is great in bright overcast conditions.: I explain the factors that determine my choice of each location. I often get a chuckle when folks write requesting detailed itineraries for the various IPTs; many times I do not know where we are going until I am leaving the motel...
IPT KUDOS
By e-mail from Katie Rupp:
Artie, I am so glad I was able to do the SW Florida IPT! It surpassed my expectations and I think that I made a great leap forward in my skills and understanding. Thank you for sharing your expertise and a special thank you for the use of the tripod and Mongoose 3.2 head. I thought that we had a great cast of characters and I learned much from them as well. And finally, I must tell you that Alfred and Fabs are absolutely wonderful---they balance out your energy and for me, made the IPT an over-the-top experience. Thank you again, I'll be seeing you on BPN. Katie
Via e-mail from Giulio Zanni:
Hi Artie, I made it back to Bosnia safe and sound. I wanted to thank you, Alfred and Fabs for everything. It was a great experience. I feel that I learned a lot and that it was well worth all the effort. I also really enjoyed the human aspect of the event, something that money can't buy. I look forward to remaining in touch with you. Best regards, Giulio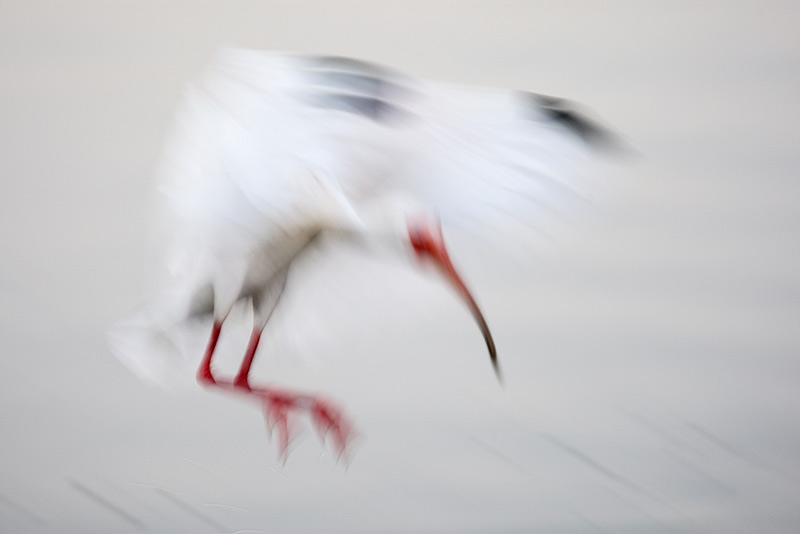 White Ibis, landing blur, Ding Darling NWR, Sanibel, FL
Image Copyright 2008: Arthur Morris/BIRDS AS ART
Canon 400mm f/4L DO lens (handheld) with EOS-1D MIII. ISO 800. Evaluative metering +1 stop: 1/4 sec. at f/32 on the Mongoose M2.3.
On our first dreary morning at Ding I was explaining in detail how to create pleasing blurs when this White Ibis flew in and I nailed it. <smile> I have been loving my 400 DO. .
ANNOUNCING THE 2009 SW FLA PRESIDENT'S DAY IPT
The SW FLA IPT will return to its usual mid-FEB slot in 2009. As I cut back on both the number and IPTs and the size of the groups, this will be one of the few opportunities to learn from me in the field in person. I am not sure of the co-leaders but be assured that I will be surrounded by a flock of talented folks. If you would like to join us, please call, mail, or Paypal send a $200 deposit at your earliest convenience.
NEW! SW FLA PRESIDENT'S DAY IPT: FEB 13-17, 2009. Slide program on the evening of FEB 12. (Limit: 10) 5-DAY: $2450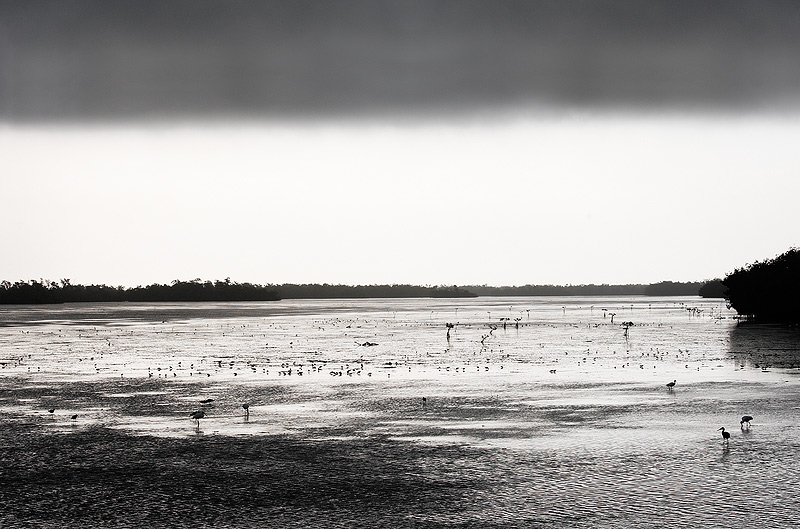 Mud flats, baby mangroves, wading birds, and shorebirds during stormy weather, Ding Darling NWR, Sanibel, FL
Image Copyright 2008: Arthur Morris/BIRDS AS ART
Canon 70-200mm f/4L IS lens (handheld at 75mmwith the EOS-1D MIII. ISO 400. Evaluative metering +1 stop: 1/500 sec. at f/9.
When handholding to create a bird-scape, I almost always use One-Shot AF, focus on the closest bird, and then recompose. Here I focused on the nearest White Ibis on the right side of the frame.
TRAVEL INSURANCE SERVICES
As I found out recently, having to cancel a trip because of health concerns (or unexpected personal or business problems) can be quite costly. For years we have been searching for a great company that provides a vast array of travel related insurance programs. More than a year ago we found that company in—of all places—the booth next to us at NANPA. After a year of research we can now whole-heartedly recommend TIS. If you have a big trip coming up, be sure to visit their easy-to-navigate web site here: http://www.travelinsure.com/what/selecthigh.htm?32940. For years folks have been asking us, "Can you recommend a great company that offers trip cancellation insurance?" We have finally come up with the answer: Travel Insurance Services.
THE PERFECT TINY BALLHEAD FOR WIMBERLEY and MONGOOSE USERS
Here's the great news. The precision-engineered Giotto's MH 1302-655 Professional Socket and Ballhead weighs just 11.3 ounces yet is rated as powerful enough to hold 17.6 pounds of gear. It is downright tiny and downright strong. And best of all, the panning knob locks tightly for easy on and off, the tension adjustment is fine and easily set, and the main locking knob locks the head down completely. I have been dreaming of finding a head like this for years for a variety of uses.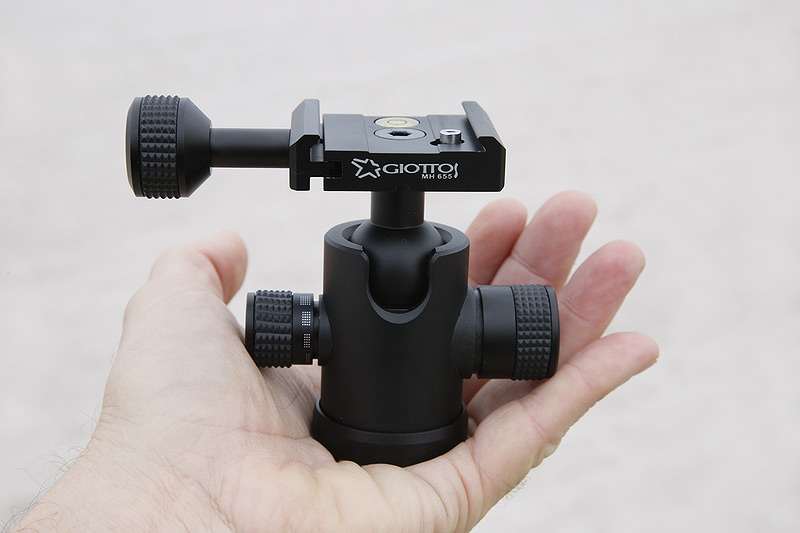 Giotto's MH 1302-655 Professional Socket and Ballhead
.....
The MH 1302-655 comes with a square plate that we do not recommend for use. It is designed to work with the safety stop that can be see on the right side of the clamp above. You will need 2.5 mm sized Allen wrench (hex key) to remove the stop. The bad news is that the wrench does not come with the head; the good news is that you probably have one either in an Allen wrench kit or as the smaller of the two Allen wrenches that come with Wimberley plates equipped with stop studs. The 2.5mm Allen wrench is the one that fits the stop studs. We do recommend the use of the generic Wimberley P-5 Camera Body plate ($57 including shipping and handling from BAA).
Regular readers know that I have never liked the Wimberley Sidekick atop a ballhead for either intermediate or long telephoto lens. (Do note that we sell several dozen Sidekicks each year and will be glad to send you one at any time.) Recently on the SW FLA Spring IPT Giulio Zanni arrived with a Mongoose atop a Really RIght Stuff Ballhead. After he set up his Canon 400 DO/pro body rig he wanted to know why the Sidekick was always slipping making lens handling difficult to impossible... "That's what is," I said. My other huge concern with the Sidekick/ballhead set-up is the weight. Giulio borrowed the lightweight Mongoose M3.5 and purchased one immediately.
Since the introdcution of the two Mongoose Action heads, first the M2.3 for the intermediate telephotos and then the M3.5 for the Canon 400mm f/4 DO, the Canon and Nikon 500mm f/4 lenses, and the Nikon 200-400, I have counseled many folks away from the Sidekick. "But I do lots of scenic photography; what am I gonna do?" I always followed that up with this: "When was the last time that you were using a telephoto lens, removed your Sidekick from the ballhead, and mounted your camera and short lens on the ballhead?" If they say that they do it regularly, we sell them a Sidekick. Most folks, however, admit that they had never done it or that they had done it once several years ago. We then strongly recommend that they opt for one of the Mongoose heads.
The tiny Giotto's MH 1302-655 Professional Socket and Ballhead will solve everyone's problems. Your MH 1302-655 can be stowed easily in a photo backpack, your vest or even in a pants pocket. If you are using a telephoto lens and want to make some scenic images with a short lens at slow shutter speeds, simply twist off your Wimberley or Mongoose head, spin on the tiny Giotto's ballhead, and get to work. We do recommend the use of the Wimberley P-5 generic camera body plate on your camera. Below you will find some illustrated tips for using your new ballhead for scenic photography with lenses that do not come with tripod collars. Do know that the head is strong enough to be use with small intermediate telephoto lenses and with all macro lens, even when they are equipped with professional camera bodies. Folks looking to save weight both in the field and when packing for air travel will find this mighty mite irresistible.
This item is currently in short supply. We have five on hand and a large back-order as I am positive that this item will meet the needs of many nature photographers once the word gets out. As usual, we are selling this item for less than B & H. You can order your Giotto's MH 1302-655 Professional Socket and Ballhead.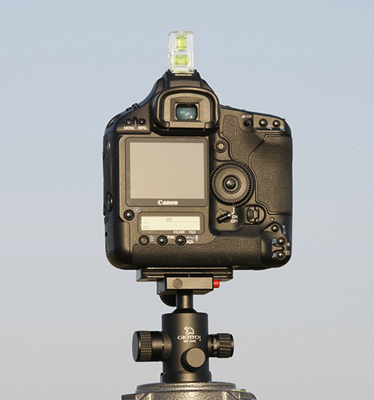 For horizontal scenics, place your camera body plate in the center of the clamp. With this set-up, the panning knob is in the center, the main locking knob is on the left, and the tension adjustment screw is on the right. A bubble level is pretty much mandatory for landscape photography.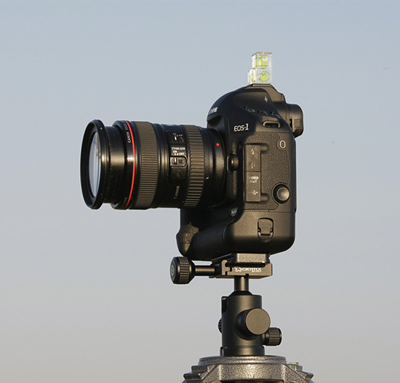 Here is the Canon 24-105mm IS L lens and an EOS 1D-MIII mounted on the tiny Giotto's ballhead.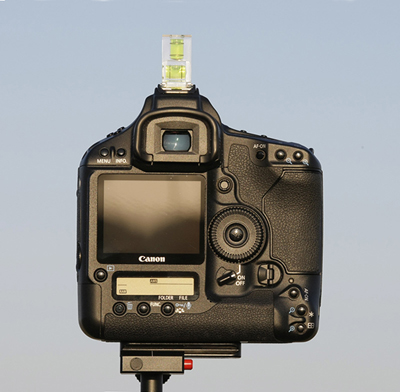 When working in vertical format it is imperative that the plate be shifted to the right in the clamp so that when the camera is turned on end, the plate does not hit against the tripod platform. A quick look at the next iamge will clarify this.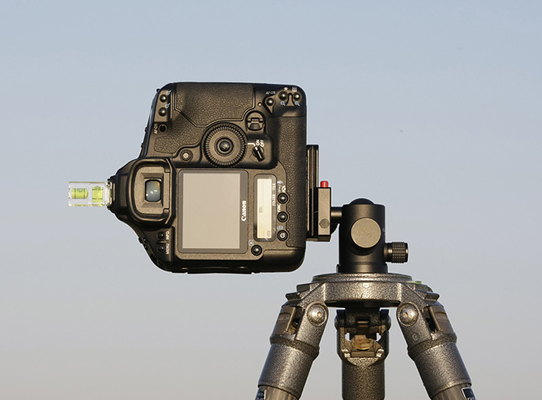 One of the great advantages of having the tiny Giotto's ballhead available for landscape photography is that eliminates the need for an expensive and heavy L bracket as setting up for verticals is a snap. (The stem of the ball slides into the cut on the side of the housing.) Note that working in vertical format the tension adjustment screw needs to be on your left so that that cut in the housing is on your right.
VERY IMPORTANT EXPOSURE HOW-TO INFO
You can find my article "Exposure Simplified" both in ABP II and excerpted in the current BPN e-Zine here: http://www.birdphotographers.net/ezine/mar08_01.aspx . Things, however, have changed substantially since that was written.

Before the release of the Nikon D-3 and D-300, the meters in most digitals cameras were very similar, but those two cameras are considerably different from the rest of the crowd. Not necessarily better, but surely different. In short, these two Nikon bodies need much less plus compensation when the light is soft (predawn, just after dawn, cloudy, foggy, etc.), but need more underexposure when the sun is at full strength, especially with bright or white subjects.

The fact is that today, with the many great digital cameras available, the meters can be very different. Sometimes, even individual cameras that are the same model (for example, two Canon EOS 1-D MIII camera bodies) will meter the exact scene differently yet each will yield a good histogram and a god exposure. Your job as a digital photographer is to learn not only the basics of exposure but the characteristics of your camera's meter. As always, your goal is to have some data in the right-most histogram box without having any flashing (pegged or over-exposed) highlights.

It is no longer possible for me to give accurate generic advice on exposure compensations for a given situation because the cameras and the meters are so different, and in the same vein you should not be drawing any major conclusions from the exposure compensations as stated in the Bulletin image captions. The photographer needs first to learn exposure theory and then learn how to come up with a perfect exposure and a perfect histogram with the camera that they have in their hands at a given moment.
You can find the complete thread here: http://birdphotographers.net/forums/showthread.php?t=8022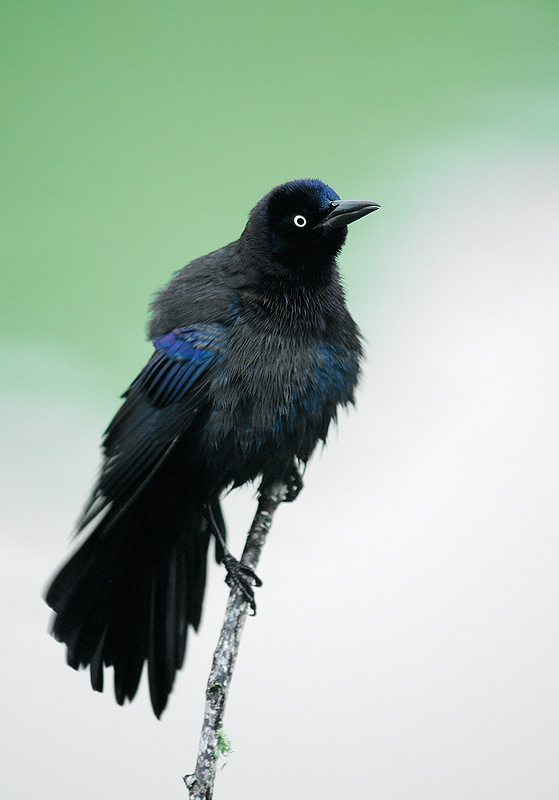 Common Grackle, Venice Rookery, South Venice, FL
Image Copyright 2008: Arthur Morris/BIRDS AS ART
Canon 500mm f/4L IS lens (on Mongoose with 4th GD low foot) with the EOS-1D MIII. ISO 1250. Evaluative metering + 1 1/3 stops: 1/30 sec. at f4 in manual mode.
Think that it was dark? Check out the exposure and the ISO. The MIII is amazing at the higher ISOs. Though this species is very common (sorry for the pun) it has been a difficult subject for me over the years. Anything is better than bright sun for glossy black birds, even total fog. The converted RAW file looked really lousy (see below) but by making simple Levels and Curves Adjustments as detailed in both Digital Basics (http://www.birdsasart.com/digitalbasics.htm) and ABP II (http://www.birdsasart.com/ABPII.htm ) I was able to create a lovely image. It is rare for an image with the BKGR darker above and lighter below to work well, but this one does, at least for me. Making a sharp image at 1/30 sec. is pushing it…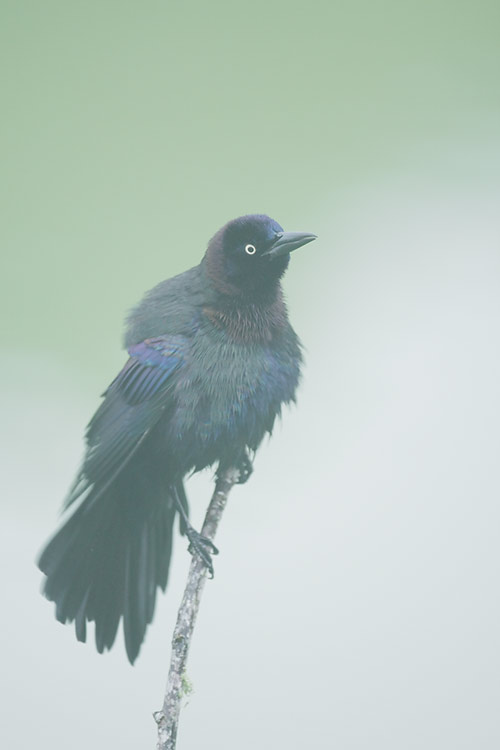 PFLI APPEARANCE AT PHOTOFEST, APRIL 6, 2008
Thanks to the generosity of Canon USA I will be the keynote speaker doing two programs at the PFLI (Photographic Federation of Long Island) Spring PHOTOFEST event on April 6. You can learn the details by clicking here: http://pflicompetition.homestead.com/, scrolling down, and clicking on the Click for details link. The cost is $30 per person. I hope to see many Bulletin subscribers and many old friends there.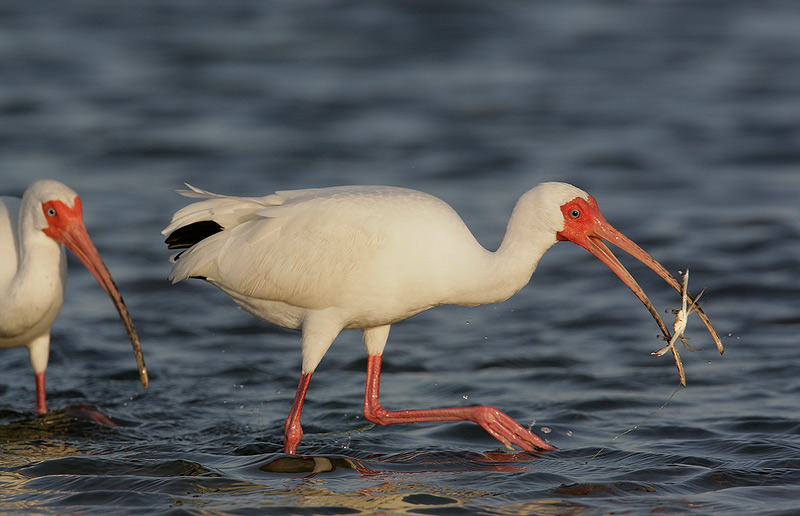 White Ibis with baby blue crab, Little Estero Lagoon, Fort Myers Beach, FL
Image Copyright 2008: Arthur Morris/BIRDS AS ART
Canon 500mm f/4L IS lens (with the Mongoose low foot), the 1.4X II TC, and the EOS-1D MIII on the Mongoose M3.5. ISO 400. Evaluative metering +1/3 stop: 1/1000 sec. at f/8.
The raised foot and the perfect head angle add to the success of this image. The second bird is hoping that the crab gets away.
BIRDPHOTOGRAPHERS.NET/IT AIN'T JUST BIRDS UPDATE
Check out Carolyn Darmo's wonderful Chickadee High Key here: http://www.birdphotographers.net/for...ead.php?t=7610. It should be in the dictionary next to the word "painterly."
In Wildlife, Steve Mandel's mother and baby Snow Monkey are ever-so-human: http://www.birdphotographers.net/forums/showthread.php?t=7524
In Landscapes C.W. Moynihan's 41,000 ft. view south of Cuba is quite dramatic: http://www.birdphotographers.net/forums/showthread.php?t=7885 as is Jared Lloyd's Cypress Sunrise: http://www.birdphotographers.net/forums/showthread.php?t=7952. Roger N. Clarke's Astrophotography with your telephoto lens will amaze you and tempt you to spend some money: http://www.birdphotographers.net/forums/showthread.php?t=6984
In Out of the Box Lance Peter's Home (Infrared) will take your breath away: http://birdphotographers.net/forums/showthread.php?t=8333 and Roman Kurywczak's Elk Silhouette #2 is simply stunning: http://birdphotographers.net/forums/showthread.php?t=7895
In Macro John Cooper's backlit SIlver Zenica Pair is simply superb. Johh, from New South Wales, Austrailia, is one of our many talented foreign photographer/artists.
If you ever photograph bright whtie subjects and missed the great thread "How White the Whites?" in Educational Resources, be sure to check it out here: http://www.birdphotographers.net/forums/showthread.php?t=8197
BirdPhotographers.Net/It Ain't Just Birds (www.BirdPhotographers.Net) has quickly become the number one educational and critiquing web site on the planet and continues to improve. A quick visit to any of the galleries will reveal that our philosophy of "honest critiques done gently" and leading by example are succeeding quite well. (If you are a first time visitor, you will be prompted to register. Registration is free.) Folks who will be using our image hosting services or otherwise wish to support our efforts are invited to become members by clicking here: http://www.birdphotographers.net/forums/membership.aspx. Though membership is free up until April 1, 2009, more than 425 folks have already shown their support for BPN by joining as members ($20 annually).
PORTLAND, MAINE: "The Art of Nature Photography; It Ain't Just Birds" Weekend How-To Seminar
"The Art of Nature Photography; It Ain't Just Birds" Weekend How-To Seminar in Portland, Maine
October 11-12, 2008
Eastland Park Hotel, 157 High Street, Portland, ME
The October 11-12 date was carefully chosen to coincide roughly with the average peak of fall color in southern Maine. The likelihood is that if you are coming from out of town and would like to photograph the fall color the best bet (taking global warming and the trends in recent years) would be to schedule your photography in the days following the seminar. Every year, however, is different, and this is nature photography so there are no guarantees, but chances are, whether you photograph just before or just after the seminar you should have many chances to create some great images. Best bet: come a few days early and stay on for a few days… (Hint: hope for a pre-dawn rainstorm followed by the sun breaking through in the east while grayish-black storm clouds fill the western sky…)
The seminar will be held at the Eastland Park Hotel. Folks staying at least two nights in the hotel will receive a free Lens Pen Combo Kit at the seminar. As fall color time is peak season in southern Maine, hotel rates are high anywhere in the region. We were able to negotiate a rate of $159 for folks registering early. Once the block of rooms is gone, higher rates will apply. The doors will open on both days at 8 am and the programs will begin at 9 am sharp. There will be tons of great door prizes (including Delkin e-film Pro compact flash cards and some great stuff from Lowepro and Wimberley). I hope that you will be able to join me for what will be an incredibly educational and fun-filled weekend. (If anyone would like to help us set up or to hang out, be there at 7:00am.)
This seminar is for all nature photographers who want to learn how to make better photographs. On Saturday I will describe the methods and techniques that I have developed and used since 1983. My comments on equipment (including and especially digital equipment), autofocus, light, and on composition and image design, and my tips on getting close to free and wild subjects and creating pleasing blurs will benefit everyone with a telephoto lens who wishes to dramatically improve the quality of their images. Since going all-digital in November 2002, I have--in short order--become a digital photography and Photoshop expert. My approach to optimizing images is to create a master file of excellent quality in the shortest possible time. I will share our workflow and numerous Digital and Photoshop tips on Sunday. As more and more folks are using Digital Capture, I am finding on our IPTs that many good to excellent photographers have no clue as to how to use Photoshop to make their images look better. In fact, many of them make their best images look worse! My workflow is designed to quickly produce master files of high quality. I can and will teach you to do just that at this seminar.
The cost of the weekend seminar will be $169. The cost of either single day will be $99. Members of qualifying camera clubs are invited to apply a $10 discount. (If you are a member of a camera club or other photography organization please e-mail us before registering to learn how your group can become a qualifying club). Register with a friend or a spouse and take $10 off each registration. Register in groups of four or more and take $20 off of each registration. Register in a group of ten or more and take $30 off each registration. It is highly recommend that folks purchase the buffet luncheon option ($15/day includes tip and tax). Those purchasing the lunch option will receive their lunch coupon when they check in each morning.) The cost of the weekend seminar plus the two lunches is $199.
To register, send a check for the full amount made out to "Arthur Morris" to PO Box 7245, Indian Lake Estates, FL 33855, call with a credit card: 863-692-0906, or send a Paypal (using either any link on our site or your Paypal account) to us at birdsasart@att.net In all cases, we will need your e-mail address, your mailing address, and your daytime and evening phone numbers. Here is our Cancellation Policy: If for any reason you need to withdraw, please notify us ASAP. Once we receive your e-mail, phone call, or written notice of your cancellation the following fees apply: cancel before July 10, 2008 and your fee will be refunded less a $20.00 cancellation fee; cancel by August 10, 2008 and your fee will be refunded less a $50.00 cancellation fee; cancel after September 10, 2008 and there will be no refund.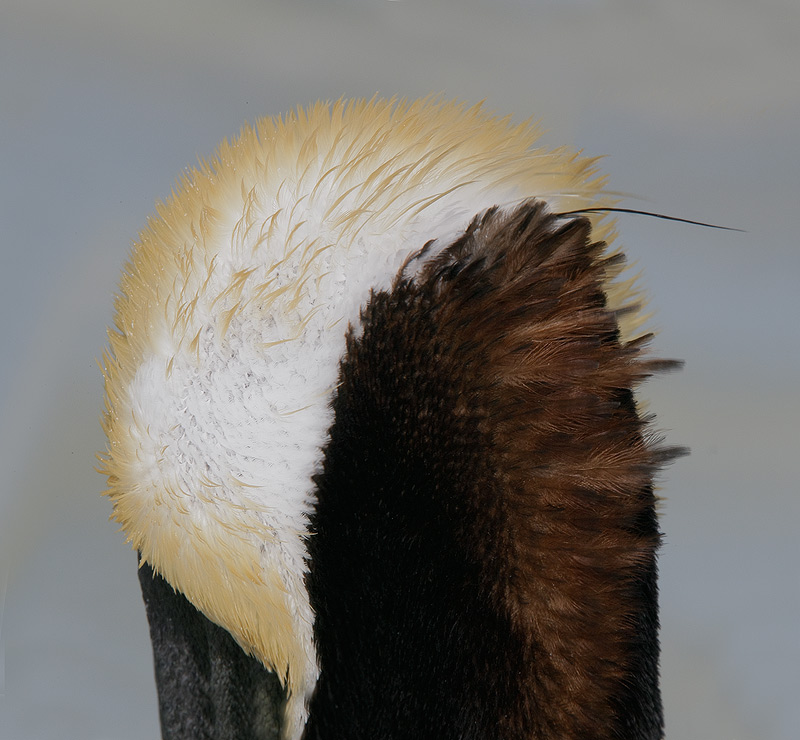 Brown Pelican, detail of back of head, Little Estero Lagoon, Fort Myers Beach, FL
Image Copyright 2008: Arthur Morris/BIRDS AS ART
Canon 500mm f/4L IS lens (with the Mongoose low foot), the 1.4X II TC, a 25mm Extension Tube, and the EOS-1D MIII on the Mongoose M3.5. ISO 400. Evaluative metering +1 stop off of the water: 1/125 sec. at f/22 in Manual mode.
This is a composite of two images, one of the right side of the head, the other of the left side of the head. To stitch the images I converted them both and then selected them in File/Automate/Photomerge. Photomerge in CS3 is absolutely remarkable.
IPT UPDATES
Bosque IPT #1: NOV 22-25, 2008. Slide program on the evening of NOV 21. 4-DAY: $1799 (Limit: 10/Openings: 3)
Bosque IPT #2: NOV 29-DEC 2, 2008. Slide program on the evening of NOV 28. 4-DAY: $1799 (Limit: 10/Openings: 4)
SW FLA POST X-MAS IPT: DEC 27-29 or 30, 2008. Slide program on the evening of DEC 26. (Limit: 10/Openings: 6) 4-DAY: $1799 (3-DAY OPTION: $1349)
NEW! SW FLA PRESIDENT'S DAY IPT: FEB 13-17, 2009. Slide program on the evening of FEB 12. (Limit: 10) 5-DAY: $2249
…..
Best and love and great picture-making to all, artie
Note: Arthur Morris has been a Canon contract photographer since 1996 and continues in that role today. Hunt's Photo of Boston, MA is a BAA sponsor as is Delkin Devices. Back issues of all BAA Bulletins can be found in the Bulletin Archives which may be accessed from the home page at www.birdsasart.com