This seminar is for all nature photographers who want to learn how to make better photographs. On Saturday I will describe the methods and techniques that I have used and developed since 1983. My comments on lenses and digital camera bodies, AF, light, and on composition and image design will be highly informative and educational. And my tips on getting close to free and wild subjects and creating pleasing blurs will help you become a better photographer. Everyone with a telephoto lens who wishes to dramatically improve the quality of their images will benefit from attending.
Since going all-digital in November 2002, I have—with the help of many wonderful friends—become a Photoshop expert. My approach to optimizing images is to create master files of excellent quality in the shortest possible time. I will share our workflow and numerous Digital and Photoshop tips on Sunday. As more and more folks are using Digital Capture, I am finding on our IPTs that many good to excellent photographers have no clue as to how to use Photoshop to make their images look better. In fact, many of them make their best images look worse! I can and will teach you to do just that at this seminar.
Do consider taking advantage of the opportunity to spend two days learning from one of the premier nature photography educators on the planet by joining me for this great weekend. The October 11-12 dates were carefully chosen to coincide roughly with the average peak of fall color in southern Maine. The likelihood is that if you are coming from out of town and would like to photograph the fall color the best bet (taking global warming and the trends in recent years) would be to schedule your photography in the days following the seminar. Every year, however, is different, and this is nature photography so there are no guarantees, but chances are, whether you photograph just before or just after the seminar you should have many chances to create some great images. Best bet: come a few days early and stay on for a few days… (Hint: hope for a pre-dawn rainstorm followed by the sun breaking through in the east while grayish-black storm clouds fill the western sky…)
The seminar will be held at the Eastland Park Hotel. Folks staying at least two nights in the hotel will receive a free Lens Pen Combo Kit at the seminar. As fall color time is peak season in southern Maine, hotel rates are high anywhere in the region. We were able to negotiate a rate of $159 for folks registering early. Once the block of rooms is gone, higher rates will apply. The doors will open on both days at and the programs will begin at sharp. There will be tons of great door prizes (including Delkin e-film Pro compact flash cards and some great stuff from Lowepro and Wimberley). I hope that you will be able to join me for what will be an incredibly educational and fun-filled weekend. (If anyone would like to help us set up or to hang out, be there at .)
The cost of the weekend seminar will be $169. The cost of either single day will be $99. Members of qualifying camera clubs are invited to apply a $10 discount. (If you are a member of a camera club or other photography organization please e-mail us before registering to learn how your group can become a qualifying club). Register with a friend or a spouse and take $10 off each registration. Register in groups of four or more and take $20 off of each registration. Register in a group of ten or more and take $30 off each registration. It is highly recommend that folks purchase the buffet luncheon option ($15/day includes tip and tax). Those purchasing the lunch option will receive their lunch coupon when they check in each morning.) The cost of the weekend seminar plus the two lunches is $199.
There are three ways to register:
1- Send a check for the full amount made out to "Arthur Morris" to PO Box 7245, Indian Lake Estates, FL 33855.
2- Call us with a credit card at 863-692-0906.
3- Send us a Paypal (using either any link on our site or your Paypal account) to us at birdsasart@att.net.)
In all cases, we will need your e-mail address, your mailing address, and your daytime and evening phone numbers.
Here is our Cancellation Policy: If for any reason you need to withdraw, please notify us ASAP. Once we receive your e-mail, your phone call, or written notice of your cancellation the following fees apply: cancel before July 10, 2008 and your fee will be refunded less a $20.00 cancellation fee; cancel by August 10, 2008 and your fee will be refunded less a $50.00 cancellation fee; cancel after September 10, 2008 and there will be no refund.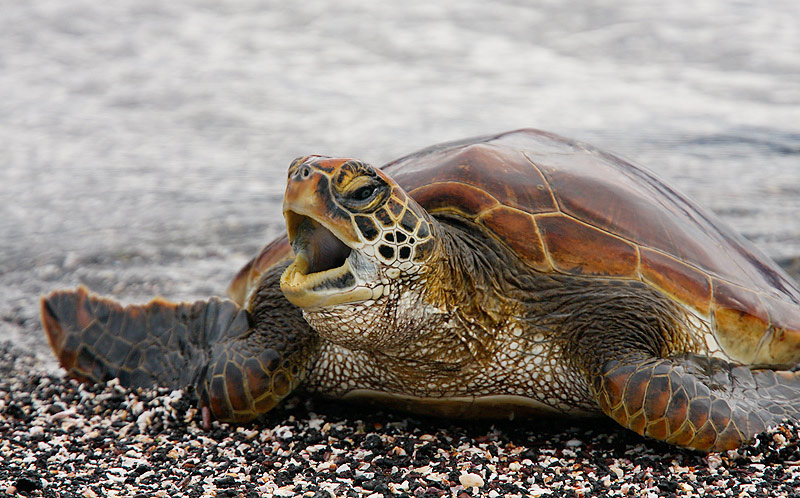 Pacific Green Sea-Turtle, youngster yawning, Punta Espinoza, Fernandina, Galapagos
Image Copyright 2008: Arthur Morris/BIRDS AS ART
Canon 400mm f.4 IS DO lens with the 1.4X II TC and the EOS 40D on the Mongoose M3.5. ISO 400. Exposure was about Evaluative metering +1/3 stop determined by histogram check: 1/400 sec. at f/5.6 set manually.
There are only two or three places in the world where Pacific Green Sea Turtles leave the water to bask. Punta Espinoza on Fernandina Island in the Galapagos is one of those places. Fortunately, I had just moved back when the turtle yawned. For an interesting discussion on my choice of framing here, check out this BPN thread: http://birdphotographers.net/forums/showthread.php?t=15723. First-time visitors will be asked to register; registration is free. And remember, it ain't just birds!
GIOTTO'S BALLHEAD KUDOS
By e-mail from Treve Willis:
Hi Art, I'm very happy with the Giotto's Tiny Ballhead that I bought from you - I have written a review of it using it in a totally different set up to yours, in my case with a Gitzo Traveler tripod.

I've put in a link to your bulletin which reviewed it and if you wish you can see my review at http://churchillphotographer.blogspot.com/
Best, Treve
Here are Treve's relevant comments:
The smaller Kirk ballhead I use, the BH-3, weighs in at 560g rams so is hardly the ideal partner for the lightweight GT1541T. My search was pretty fruitless until I received a "BIRDS AS ART Bulletin from Art Morris extolling the virtues of the Giottos' MH 1302-655 ballhead – if you go here and scroll down the page to the section titled "The Perfect Tiny Ballhead for Wimberley and Mongoose Users" you can see Art's review. Essentially it met all the criteria and was as compact and light as I could imagine. Failing to find one for sale anywhere in the UK (there were some with non-Arca platforms) I bought one direct from BAA in the US; it arrived in about 10 days – pretty good and great communication from them as well.
You can learn more about this great product here: http://www.birdsasart.com/giottos.htm.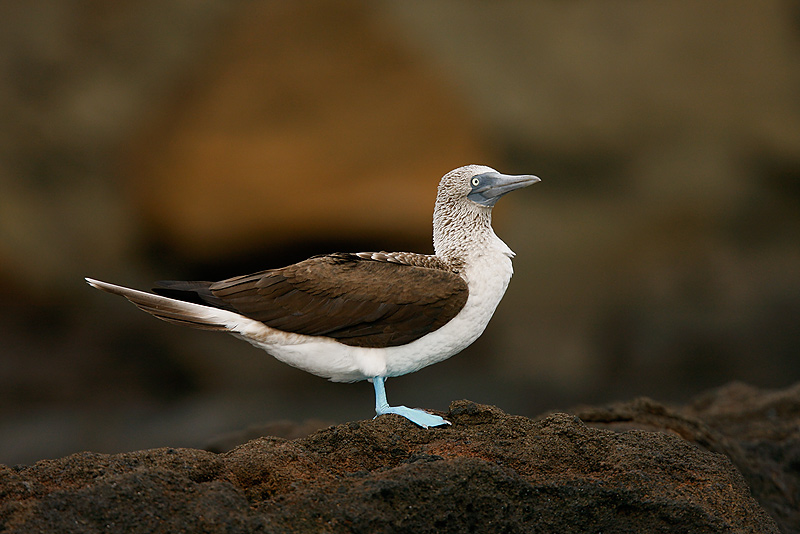 Blue-footed Booby, Pinnacle Rock, Bartolome, Galapagos
Image Copyright 2008: Arthur Morris/BIRDS AS ART
Canon 400mm f/4 IS DO lens handheld with the EOS-40D. ISO 400. Evaluative metering -1/3 stop: 1/1250 sec. at f/5 in Manual mode.
Photographing from a rocking panga (Zodiac) with as many as seven other photographers in the boat is challenging at best. Most others were using shorter lenses so as we pulled away from the rock I was able to remain standing and create this image. (Everyone else had gotten images when we were very close). Image stabilization allows for sometimes amazing results whenever you are working from various types of watercraft. And as regular readers know, I am falling more and more in love with my 400 DO.
ART WOLFE CNPA EVENT
CNPA, the Carolina Nature Photographer's Association is hosting a full weekend program featuring Art Wolfe (Creative Sessions) on October 17-19, 2008 in Charlotte, NC. For additional details or to register click here: http://www.artwolfe.com/creativesessions/charlotte.html . If you are within a few hours drive of Charlotte, this is one event that you do not want to miss. Art is a powerful and entertaining speaker as well as one of the great nature photographers of our time.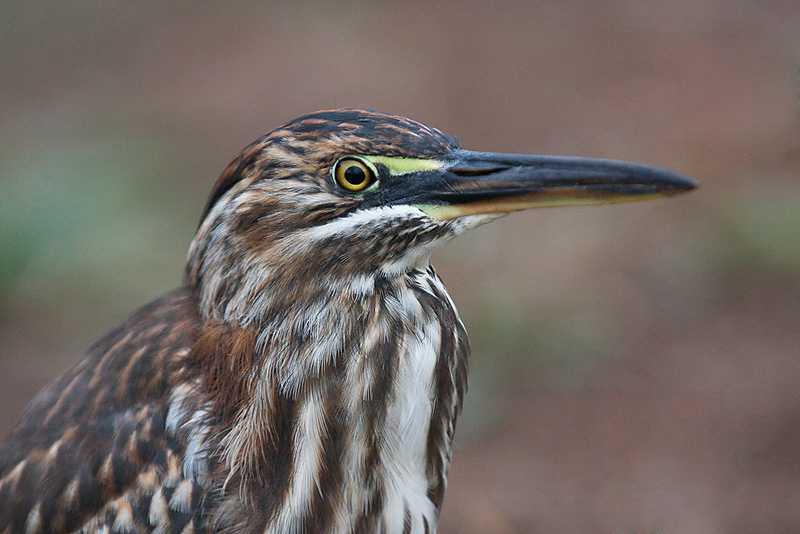 Striated Heron, immature, Puerto Ayora, Galapagos
Image Copyright 2008: Arthur Morris/BIRDS AS ART
Canon 400mm f/4 IS DO lens handheld with the EOS 40D on the Mongoose M3.5. ISO 1000. Evaluative metering at 0: 1/500 sec. at f/4 set manually.
After a great morning with the tortoises, we had a fabulous broiled chicken lunch at Juan's aunt's place and then had the afternoon for shopping and free play at the harbor. I had been photographing Brown Pelicans and diving Blue-footed Boobies alongside of the pier when I saw two or three of the cruise participants photographing something in a tiny park on the waterfront. I assumed that it was the male Yellow Warbler that I had seen on my way to the pier, but when they were in the same spot five minutes later, I realized that they were not photographing a warbler... Though I had planned on taking a panga back to the ship, my curiosity got the best of me. After a two minute walk I was stunned to see that they had this young bird and a gorgeous adult of the same species right in front of them. Both were tamer than tame. And amazingly, with careful positioning, it was easy to attain lovely backgrounds. As it was near dark, shutter speed was my big problem, so I raised the ISO to 1000, braced my lens on my knee or my forearm on a park bench , and made lots of good images.
NEW LENS COAT PRODUCTS
BAA is proud to announce that we have added a new line of LensCoat products. Each is designed to protect your equipment, make travel easier, and make it easier to keep your gear safe and organized. Each of the items below is available in a variety of patterns and (if applicable), in a variety of sizes for various lenses, camera bodies, and tripod heads. For prices, sizes, costs, and more detailed product info please click here: http://www.birdsasart.com/lenscoathoodiesetc.htm and scroll down to see the complete line.
Hoodie Lens Caps

The LensCoat Hoodie helps protect the front element of your lens from dirt, dust, moisture and impact. The neoprene Hoodie fits easily and snugly around your lens hood or shade in either the shooting position or reversed. The Hoodie features a reinforced removable front element protection disc made from rigid plastic and firm foam to further protect your glass from damage. Great for travel and storing your lenses.

Lens Pouches

The LensCoatTM Lens PouchesTM are soft neoprene bags to store, carry, and protect your smaller lenses, ballheads, and other incidental camera equipment during travel and transport in the field. Available in seven different sizes for the perfect fit, the LensPouch includes a removable reinforced front element protection disc for your lenses. An easy pull cord closure allows fast and easy access. A convenient 1" belt loop allows you to connect your LensPouch to a belt or to a belt system; the bag also includes a heavy duty snap hood to clip onto your belt, jacket, or camera bag. Flattens and compacts when empty for easy storage.
Wimberley Covers
The LensCoat Wimberley Head Covers offer your valuable equipment protection from scrapes and bumps, preserving its appearance and resale value. They also help break up the shape, making them less noticeable to wildlife. The Wimberley head covers are made of closed-cell neoprene and also act as a thermal barrier helping to protect your hands in hot and cold temperatures.
Body Bags
The LensCoatTM BodyBagTM Pro is a camera body cover made from soft, shock-absorbing neoprene protecting your camera from the nicks, dings and scratches of accidental impact. It also keeps the camera body free from dust and dirt and protects it from the elements as well. The BodyBag' s Velcro closure makes storage and access quick and easy. The BodyBag is great for camera body storage and travel.
FlashKeeper
The LensCoatTM FlashKeeperTM is a neoprene pouch with Velcro« closure to protect your flash unit from nicks and scratches during transport. An exterior pocket accommodates up to eight AA batteries for your convenience. The 1" wide belt loop can be used to secure your FlashKeeper to a belt or belt system; the pouch also comes with a heavy duty snap hook to clip onto your belt, jacket, or camera bag.
BeamerKeeper
The LensCoatTM BeamerKeeperTM is a neoprene bag fitted to organize, protect, and carry your Better Beamer Flash Extender. Store your flash arms and Fresnel lens in this protective pouch during travel and also during transport in the field. A convenient 1" belt loop allows you to connect the BeamerKeeper to your belt or to a belt system; the bag also includes a heavy duty snap hood to clip onto your belt, jacket, or camera bag.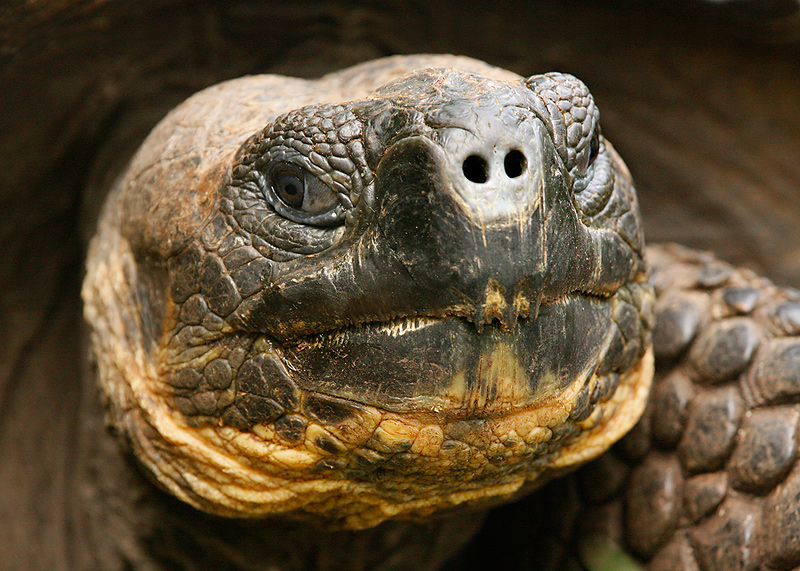 Galapagos Tortoise, Puerto Ayora, Galapagos
Image Copyright 2008: Arthur Morris/BIRDS AS ART
Canon 78-200mm f/4 L IS lens with the 1.4X II TC (at 246mm) with the EOS 40D. ISO 800. Evaluative metering -1/3 stop: 1/125 sec. at f/7.1 set manually. Mongoose M3.5 on the Gitzo CF 3530 LS tripod.
I went super-light for our walk at the Highlands on Puerto Ayora. Everyone knows that having a long lens for wildlife photography is an absolute must, especially when photographing tame creatures like this. Not! After the group had its fill of creating images of this wonderful creature, I sat in the mud and approached it by wriggling on my butt very slowly while lifting my tripod in front of me an inch or two at a time. When photographing brown subjects like tortoises or coastal Brown Bears on cloudy days or in shade I prefer to set (or to convert with) cloudy White Balance.
POSSE UPDATES
Wildscape Images' Wichita Mountains National Wildlife Refuge Photographic Instructional Workshop with Robert Amoruso
In Oklahoma there is an oasis of prairie grasslands, forested areas dominated by oak and red cedar, peaks approaching 2500' (one with an auto road to top), twenty large lakes, rock outcroppings, herds of bison and elk, white-tailed deer , wild turkey , plus a prairie dog colony ; this is the Wichita Mountains National Wildlife near Lawton, OK. Join award-winning bird and nature photographer Robert Amoruso on a three-day workshop that coincides with the area's peak fall foliage. The extensive road system within the refuge allow us access to a bison herd over 500 strong with possibilities for elk. A prime draw will be the prairie dog town where scores of them are easily photographed. The workshop will be divided between landscape and wildlife photography.
Our landscape photography will concentrate on basic compositional techniques for arranging elements in the scene including DOF, using foreground elements to add interest, and enhancing depth in your images. We will also cover panoramic image-making and high dynamic range imaging (HDRI). Basic exposure concepts will be covered including how to deal with a scene's dynamic range when it exceeds that of the camera. Our mammal photography will cover lighting angle, subject choice, effective compositions, getting low and when it matters, and working around large species. A highlight of our workshop will be incorporating the gorgeous peak fall foliage into our imaging making. The workshop will include an introductory session the evening before, two hours of classroom instruction each afternoon, and morning and afternoon photography sessions each day. Robert will be reviewing your images during the workshop to ensure you are getting the results you want.
WICHITA MOUNTAINS PIW with BAA-Approved Workshop leader Robert Amoruso: NOV 7-9, 2008. 3-DAY: $999. (Limit 10). All participants will receive a CD with presentations given during the workshop. Contact Robert by cell phone at 407-808-7417 or by e-mail at info@wildscapeimages.com. Detailed informational brochure available for download at www.wildscapeimages.com/extra/2008-PIW-WMNWR.pdf after 7/21/08 or email for information. Visit Robert's web site at www.wildscapeimages.com.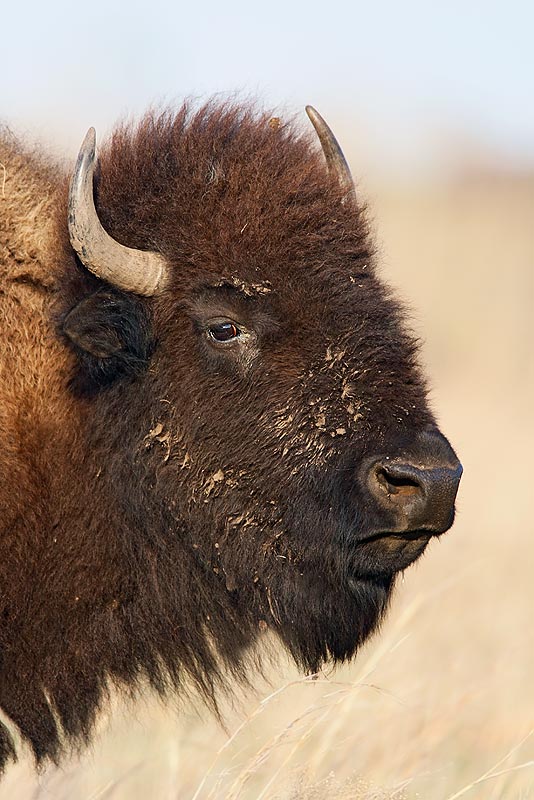 Bison, Wichita Mountains National Wildlife Refuge, OK
Image Copyright 2008: Robert J Amoruso/Wildscape Images
Canon EOS-1D Mark III, Canon 600mm f/4 IS + 1.4x TC.
1/1000 sec, f/6.3, Manual, Evaluative, ISO: 800.
In this image I was careful to wait for the bison to turn his head completely into the sun so no dark shadows existed on the body and his eye was clear and well lit and included a catch light. Though not a problem here, large mammals frequently have dark eyes; selecting the eye, doing a curves adjustment in Photoshop to lighten and sharpening enhances the eye. RJA.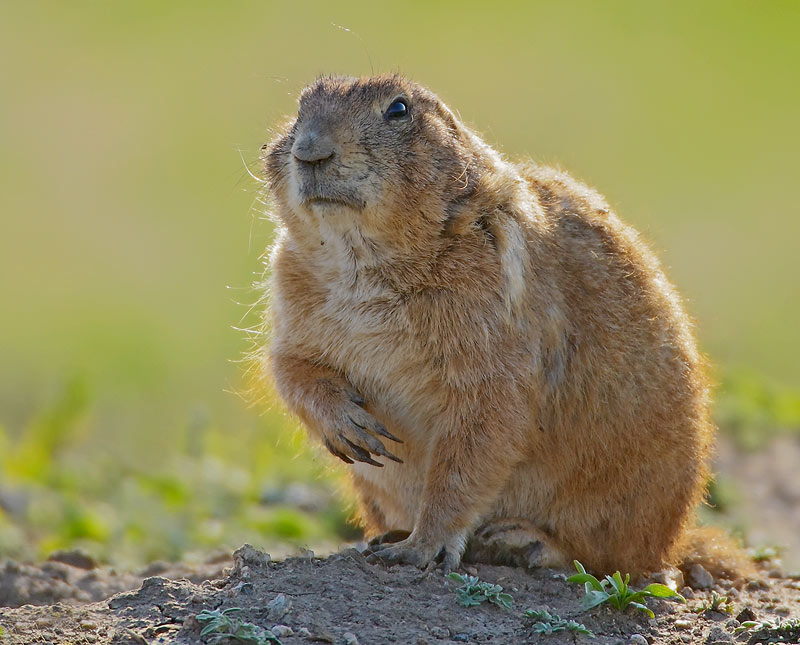 Prairie Dog, Wichita Mountains National Wildlife Refuge, OK
Image Copyright 2008: Robert J Amoruso/Wildscape Images
Canon EOS-1D Mark III, Canon 600mm f/4 IS + 2.0x TC.
1/500 sec, f/8, Av, Evaluative, Exp comp: +1 1/3, ISO: 800.
Backlighting was used in this image to rim the prairie dog in a golden hue. Three different curve adjustment layers were created in Photoshop to tame the contrast and bring-out detail in the rim lighting. The image was created lying on my belly to create a nicely blurred background. This is where getting low matters.
Robert O'Toole at Bosque/Photography & APTATS/Photoshop Workshops
Robert O'Toole will lead two Photography and two APTATS Photoshop Workshops this year at Bosque. With 5 years of experience leading and co-leading workshops at Bosque, Robert can make sure that you maximize your opportunities in the field and then learn to produce high quality image files in Photoshop where he is an acknowledged guru.
Robert O'Toole BAA-Approved Photography Workshops: Nov 19-21, 2008 & Dec 3-5, 2008. 3-DAY: $999 (Limit 6). Photography topics will include flight photography techniques, lighting, creative imaging, equipment set up, and in the field long lens techniques. The workshop includes one daily covering Photoshop techniques and image review session. .
Robert O'Toole BAA-Approved APTATS/Photoshop Workshops. Nov 26 or Nov 28, 2008: 1-DAY: $349. (Limit 8). Photoshop workshop dates include a full day covering APTATS techniques from 10am - 5pm. Participants will be encouraged to work with images provided during the workshop. Workshop materials will be supplied but a laptop with Photoshop is required. The small class size is designed to give you the best learning environment possible.
E-mail Robert for more information at Robert@RobertOToolePhotography.com or call 310.619.8017.
You can learn more about Robert at www.RobertOtoolePhotography.com
Flight School Goes to Bosque with Jim Neiger
With thousands of migratory birds in flight daily at Bosque Del Apache, what better site for Flight School Photography workshops? Last year's workshops were a huge success, so once again, Flight School Photography returns to Bosque. We are anticipating improved conditions and even more outstanding photographic opportunities than last year. There will be two workshops each conducted by expert bird photographer Jim Neiger. Jim has spent the past several years perfecting his unique techniques for photographing birds in flight using large telephoto lenses, hand held. The focus of these workshops will be learning and practicing Jim's hand held, long lens techniques for photographing birds in flight and in action.
The workshops will be held in November, before Thanksgiving, which provides important advantages. First, the spectacular fall colors at Bosque are not to be missed and going early will provide that opportunity. The fall foliage offers incredibly beautiful backgrounds for your photos, and adds even more majesty to the already spectacular sunrises and sunsets. Second, going early means there will be less of a crowd, offering more opportunities for "front-row seats" and leisurely days in the field. Each workshop will include 2 hours of classroom instruction on the first afternoon, a welcome dinner, and a morning and an afternoon photography session each day.
Flight School Goes to Bosque BAA-Approved Workshops: NOV 14-17 and NOV 18-21, 2008. 3-DAY: $1000. (Limit 8.)
Contact Jim by cell phone at 1-407-247-5200 or by e-mail at jimn@cfl.rr.com. Visit his web site at: www.flightschoolphotography.com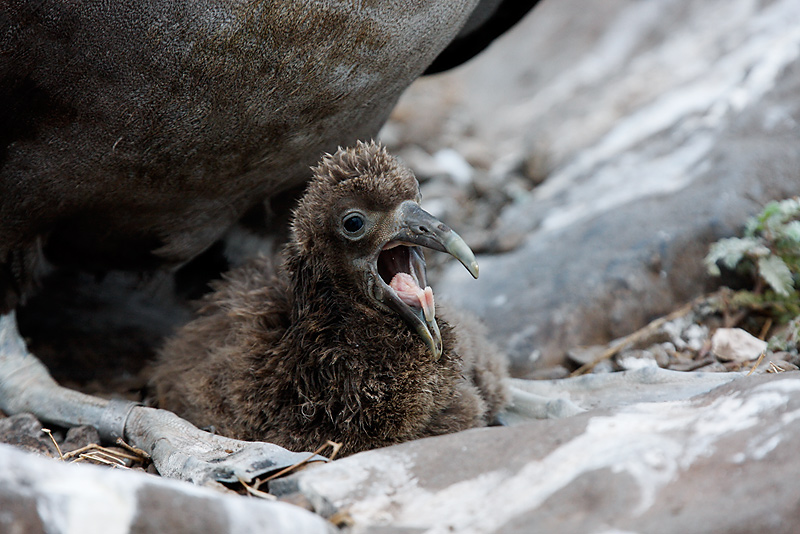 Waved Albatross, yawning chick in nest by parent's feet, Punta Suarez Hood Island, Espanola, Galapagos
Image Copyright 2008: Arthur Morris/BIRDS AS ART
Canon 400mm f/4 IS DO lens with the EOS-40D. ISO 640. Evaluative metering +2/3 stop: 1/ 125 sec. at f/4 .
On our afternoon visit to Punta Suarez we were totally blessed. We found this little guy on our way back to the landing only because another bird, not the mate of the adult on this nest, landed right nearby and caused the incubating bird to stand up thus revealing the days old at most chick.
IPT UPDATES
Bosque IPT #1: NOV 22-25, 2008. Slide program on the evening of NOV 21. 4-DAY: $1799 Limit: 10/Openings: 2. Co-leader: Robert O'Toole.
Bosque IPT #2: NOV 29-DEC 2, 2008. Slide program on the evening of NOV 28. 4-DAY: $1799 Limit: 10/Openings: 3. Co-leader: Robert O'Toole.
SW FLA POST X-MAS IPT: DEC 27-29 or 30, 2008. Slide program on the evening of DEC 26. 4-DAY: $1799 (3-DAY OPTION: $1349) Limit: 10/Openings: 4.
Co-leaders: Robert O'Toole and Alfred & Fabiola Forns.
SW FLA PRESIDENT'S DAY IPT: FEB 13-17, 2009. Slide program on the evening of FEB 12. 5-DAY: $2249 Limit: 10/Openings: 5. Co-leader: Robert O'Toole .
Best and love and great picture-making to all,
artie
Note: Arthur Morris has been a Canon contract photographer since 1996 and continues in that role today. Hunt's Photo of Boston, MA is a BAA sponsor as is Delkin Devices. Back issues of all BAA Bulletins can be found in the Bulletin Archives which may be accessed from the home page at www.birdsasart.com. To unsubscribe click here: unsubscribe.